The Gros ouvrage du Galgenberg (A15) is situated 10km to the North East of Thionville, close to the village of Sentzich, In the Cattenom Forest. It has two entry blocks and six other blocks, two for artillery and four infantry blocks with observation cupolas.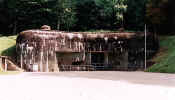 An association has been formed taking over responsibility of the old Association A15, called The Site Fortifié de Cattenom. the new association will look after Galgenberg and the Abri du Bois de Cattenom, Galgenberg is now open to visitors every day of the week all year long The tour starts at 14.30 hrs. Its also the same with the Abri, but visits are by appointment, every morning from 9.00am to 11.00am
Tours are available in English email for information and bookings
The aim of the project is to create a open air museum of fortifications in the forest of Cattenom called Site Fortifié du Bois de Cattenom At the moment, people can visit Galgenberg and Abri, and there will be soon a Path that will allow people to see Maginot Line as it was really was, Small blocks, The artillery observatory, The outside of blocks and trenches, etc.. It is also possible to have a guided tour on the outside of the fort in the forest.
The Association also has a website click here
Click any picture for a larger view
| | | | | |
| --- | --- | --- | --- | --- |
| | | | | |
| The entrance to the fort through the first blast door | The view towards block 5 | The junction of the tunnels forward to block 1 & 2 right to Block 3 | The door to the commandants quarters | The commandants quarters with a painted border. |
| | | | | |
| A plan of the fort positioned in the munitions entrance | The main M1 magazine unloading platform, magazines are on the right | A view inside one of the M1 magazines showing the stillages for the rounds | The way through to the men's entrance the room on the left was used as a jail | The officers mess with bar in the corner |
| | | | | |
| The command post | Another view of the command post | another view of the command post with the fort telegraph | Another view of the command post | The main kitchen |
| | | | | |
| A Bank of charcoal filters | The forts SGCM 3 cylinder generators | The forts SGCM 3 cylinder generators | The forts SGCM 3 cylinder generators | The entrance to the Usine |
| | | | | |
| Machine gun Turret wiring Frence style ! | Machine gun turret control panel | Machine gun turret magazine lift | Machine gun turret | Machine gun turret magazine storage |
| | | | | |
| Magazine M2 at the bottom of a block | The main blast door - still fully operational | The radio operators position in the munitions entrance | The telephone exchange | The Artillery telegraph system - similar to that on board ship |
| | | | | |
| A sign indicating the way to blocks 1,2,3 & 4 | Unique painted border in the command post | Unique painted border in the command post | Unique painted border in the command post | A sign indicating the way to the command post and blocks 5 |
| | | | | |
| A plan of Galgenberg from the book "Il était une fois La Ligne Maginot" By Jean Bernard Wahl | The crenel for both the anti tank gun and twin machine guns in the EM | With the machine guns removed ready to accept the anti tank gun on the overhead rail. | Back to normal with the machine guns in position. | Location Plan of Gros Ouvrage Galgenberg |
Copyright - Dan McKenzie 2007