Sites Visited
Zossen Wünsdorf
Zeppelin Bunker
Museum
Barracks
Juterbog Airfield Museum
Munitions Bunker
Fighter Control Bunker
Tank Range
Training Area Bunkers
Halberstadt
Malachit
Wollenberg
Sputnik site
Station 301
Berlin - Prenden
5001 Honecker Bunker
Berlin - East
Stasi HQ
Berlin - West
RAF Gatow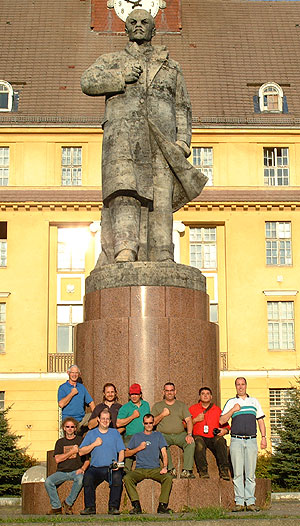 To be honest, the 'reason' for the trip was - basically - because Dan McKenzie and I (Tony Page) had been offered entry into a former WW2 (my interest) and NVA (Dan's interest) bunker in Halberstadt, eastern Germany. I have been researching and visiting/getting into the various former WW2 underground weapons factories built by the Nazis for years, and Halberstadt was on the list.
Wilm Wolfl, a German admirer of this website had contacted us and indicated he could get us in 'various sites' on my list. I got on the case and we exchanged info, and Halberstadt came up. I'd had an interest in this massive underground former Junkers jet engine factory complex for years, but it had been tightly controlled by the authorities due to its continued military status. In an earlier, different, life, I had been aware of its GDR NVA use - a huge military storage facility.
Anyway, Dan, Robin Ware, and I had originally planned to travel out specially to get into Halberstadt, and told Mike Barton. (Mike is a Sub Brit member, living in Germany, who has arranged various excellent Bunker Tours in Germany...) Mike was dead keen to come, and then gamely offered to "also arrange a few days worth of sites" should we be interested. Should we be interested? Mike emphasised that this was not going to be a full-blown Barton-Tour-Special, but would suit maybe two cars.
Day One
So, eight of us arrived at Berlin Schonefeld airport very early in the morning Monday 22nd September, collected two rental cars, and rocked up to Zossen-Wunsdorf, some 20 miles south, to meet Mike Barton.
Dan, Robin, and I had been all through the Zossen-Wunsdorf 'Zeppelin' bunker in May, but the others had not. As The Usual Suspects arrived Herr Bochert, the chief guide for the site, immediately recognised us, and having previously come to the conclusion that we were not your average tourists and that we were all genuinely very interested in the whole site, simply gave Mike Barton the keys to the complex and told us to 'help ourselves'. Ideal ! Game On.
After the bunker had been photographed fully, we then basically did a re-run of the last visit to the beautiful 1930s buildings, with Nick and the others taking photos. After leaving Zossen-Wunsdorf, we drove the 30 miles south west to Juterborg, and our hotel for the night.
Day Two
Tuesday we went to a former WW2 and then Soviet airfield at Jüterborg. A local enthusiast, Helmut - one of Mike's contacts - had bought a section of the airfield and intended to make it into a museum. His area of this (huge) former Soviet military airfield was a Quick Reaction Alert Area, possibly housing two MiG 21 jets. There were two hardened shelters, big enough for bombed-up aircraft, an operations building and loads of utterly useless old military junk. But then I suppose people look at some of my 'restoration project vintage motorcycles' and write them off as 'junk' too...
There were a few roadworthy ex-NVA and Soviet vehicles, including a BTR-60PB armoured personnel carrier (APC) which had been rescued from the local training area. One of the former hardened shelters had been turned into a very neat house, where Helmut now lives. He also had acquired the nearby pilots' alert rooms, which contained more of his collection, which he was in the process of turning into a museum together with Manfred, our guide for the very full day.
We moved on to inspect various munitions bunkers dotted around the vast site, including the fighter control bunker spread over several levels. This originally WW2 Luftwaffe bunker was particularly interesting as it contained lots of abandoned equipment, including paperwork. We found a postcard from a Russian parent to her conscript son wishing him a happy May 1st, various radar print outs (dated 1983), and various programming cards. The bunker was somewhat stripped and basically trashed, but nevertheless very interesting.
That afternoon we drove out into the vast Jüterbog training area to the north of the airfield. This is now a huge nature reserve and not normally open to the public, but Manfred had obtained special access rights for us. Access to the site is banned due to the amount of unexploded ordinance littered around the place. This former training area really was massive. We drove some considerable distance down unmade tracks to various areas within it. There were two areas we were particularly interested in: a tank range, and some WW2 Czech-style bunkers built in the mid 1930s in preparation for war.
The abandoned and derelict tank firing range was very interesting. It was a live-firing range, with a difference. The tanks, and APCs (Armoured Personnel Carriers), had stood in the specially constructed open-fronted building at one end of the range, but on plinths which could be moved to simulate the tanks being driven over rough terrain at speed. Some of these plinths were moved by electric motors; some by teams of squaddies physically muscling them by hand! The tanks were apparently fitted with a rifled tube down the barrel, enabling a much smaller round to be fired at the given target. In fact, Mike Barton told us that normal rifle ammunition was used, the standard 7.62 mm Kalashnikov round, which enabled the tank gunners to blaze away at considerably less range than a tank's more usual formidably long range. To be honest, the whole set up looked really naff, and I was struck with thoughts of Disneyland and Universal Studios - where groups of both adults and kids would sit in the 'Back to the Future' ride and through the marvel of modern technology be thrilled to bits by rapid, immediate, high speed movement capable of yanking their spines out of place, whereas somewhere in the crumbling Socialist Dream, a bunch of sweating soldiers were heaving a 30-ton tank backwards and forwards on a plinth to enable the defenders of the anti-fascist doctrine to practice their aim. Incongruous scene, don't you agree? However, it did work, and was adequate.
From the tank range, we drove for 20+ minutes on soft sand and cobbled tracks through trees and over heathland to find a command post training bunker tucked away completely hidden in the trees. It was clear that the bunker, like many others in eastern Germany, had been used in the past by the local youths for discos and parties, but it is beyond belief how any of the revellers found their way home afterwards as it is so far from anything that can be classed as a distinguishing landmark. We had the benefit of Manfred who knew the area, and I can only assume that the party-goers each had a GPS unit and an overwhelming desire to be at the party. As we moved still deeper into the training area we began to notice suspicious lumps of metal close to, and in some cases on, the track. Further, somewhat nervous, investigation revealed these metal objects to be shells, bullets and worse...
We headed out to various WW2-constructed bunkers built to replicate the Czech bunkers the Germans presumably had already planned to attack. The Germans basically attacked these bunkers to learn just how to finish them off. The bunkers showed evidence of a severe pounding, as they had been subjected to various demolition attempts before, and during, WW2. These bunkers were full sized replicas of the Czech bunkers. Time Spent in Preparation is Seldom Wasted, after all. After we'd checked out the Czech bunkers, we drove to Halberstadt, a long drive of 130 miles to the west, on local roads, for - in my case - the Main Event.
Day Three
Visiting this huge underground former Nazi weapons manufacturing plant has been on my list of things to do for years. It is another vast underground bunker, tunnelled out by luckless concentration camp inmates (many of whom died in the process) to provide a manufacturing area safe from the relentless bombing by the RAF and USAF. After Peenemünde was bombed by the RAF, after WAAF Central Photographic Interpreter Constance Babington Smith 'didn't like the look of ' some strange rocket-like structures photographed by reconnaissance aircraft, Hitler ordered all secret weapons plants to be placed under the control of the SS and to be placed underground - safe from both the prying eyes of Ms Smith, and her chums in the Lancasters. The problem was, there simply weren't enough underground places available. So they were built...
One such place was Halberstadt. The Halberstadt area, in the words of a local historian, is "overcrowded with WW2 excavations". My investigations lead me to believe that there are at least four separate excavated areas:
These are, or certainly include,:
Codename - 'Malachit'. A huge 60,000 cu metre bunker at Thekenberg, near Halberstadt / Langenstein. Constructed during WW2, using concentration camp (KL) labour, this large (around 13km of tunnels) underground factory was used by the Junkers company in the manufacture of jet engines for aircraft. Only the western half of the installation appears to have ever fully finished. Railway line and road entry with various entrances (at least five).

Makrele 1. Old mushroom-caves; again, an installation for Junkers. Located near the Zoo, the system is completely blasted (by the Russians after WW2) but some areas are still accessible. Not a large complex.

Makrele 2. Junkers too. Now privately owned. Not large.

Lange Höhle ( Long Cave ) Was reserved for the storage of art treasures (not sure whose!) and used as a Junkers store. This is an old mine (in white sandstone) and is now privately owned.
All the excavations are WW2. Three of them were blasted by the Russians just after the war, but are apparently still accessible Our visit to the area was confined to the large, actually huge, bunker 'Malachit'.
Arriving at 0800, we waited by one of the entrances to the heavily fenced area. It was obviously a former GDR base, as shown by the serious fencing, and military buildings. Now apparently deserted, well at eight in the morning anyway, the scene didn't give rise at all to the suspicion that behind the wire was one of the larger underground factories in Germany. The only giveaway was perhaps the huge mountains of spoil around 3kms away. As we waited for our guide, I noticed a mapboard and walkers signs indicating a WW2 concentration camp memorial 2.6km down the track. I was keen to investigate, but our guide was due at 0830, so there wasn't really time. Mike later said that at the memorial there was also a little museum and KL site, with evidence of about eleven barrack sheds. A repeat visit then...
In the book "Decknamenverzeichnis deutscher unterirdischer Bauten des zweiten Weltkrieges" [List of Codenames of Underground Constructions from WW2] (Hans Walter Wichert, ISBN 3-9803271-4-0) there are various mentions of this former Nazi plant, complete with a map drawn by the US Combined Intelligence Objectives Sub Committee. (file no. XXXII - 17). It states that the complex, hewn out of the sandstone, was occupied (western half) by the Junkers company for the manufacture of jet engines. The map clearly shows planned but not constructed tunnels too, so presumably it was made from German documents recovered. It also shows that some tunnels were finished, floored and lined, ready for use, (also showing what they were used for; machine tools, canteen, etc.) whereas others are depicted as unfinished, some with projected use noted ('projected telephone exchange' for instance).
As we drove through the former army base towards the main entrance, I wondered how much evidence of the former WW2 use would still be visible. I had the US map indelibly etched upon my mind...
We approached, basically, the side of a mountain. There was a cranked entry road, with very high sides of rock. At the end of the approach road was a camouflaged heavy door, protected from prying air-borne eyes by heavy cammo netting. The place still resembled an active bunker.
We drove the cars in through the main entrance and into the mountain. The tunnel was huge, accessible by trucks. We waited while our guide opened a very secure inner door, again a massive four metre high hydraulically operated steel structure. Once inside, we drove along countless huge tunnels in perfect condition, marvelling at their size. This was a first for me - driving at quite high speed through long road tunnels inside a huge bunker. We came across the main railway line and a very, very, long platform for unloading the supplies. We were told that at 450 metres, it was the longest platform not just in any bunker in Germany, but in Germany itself! It had a vehicle ramp too. The rail connection from the main line had been lifted some years back, so it is no longer possible to run trains inside the complex. The tunnels were in perfect condition: dry, well ventilated, clean. The walls were faced and painted, the floor perfect. There were no lights in the tunnels, as the power had been cut off from the town.
After the war, the Russians blasted the system. The Junkers factory was completely destroyed. One half of the former 13km of tunnelled factory was then turned into a main depot storage area for the NVA. It was a store for weapons, missiles (aircraft), clothing, and a mobilisation depot. The military (by then the Bundeswehr) pulled out in 1994, as by then they had decided they had too many stores. As we walked around this, it was obvious that the place was just as it had been left in 1994 - even the shampoo was still hanging in the showers! It was a surreal scene, walking around in the footsteps of the previous occupants, who although hadn't been there for nearly ten years, were - in fact - the last ones there.
We were asked not to touch anything, and to just look. There were papers still there, cigarette ends in ashtrays etc. Very, very, atmospheric. However, it was difficult to think back to the pre-NVA occupants - the place seemed so clean and clinical...
The kitchen was set up to feed 250 people - the apparent full quota. This (NVA) installation was purely a storage depot, and was not designed as a fighting command post. But, there was a command post there should it become needed in the event of a conflict.
We walked round, looking in every room. There were dormitories, wash rooms (very pleasant indeed - most unlike 'usual' military facilities); a still fully equipped control room with CCTV screens overseeing the entire complex (now blank of course) with typical GDR-vintage pictures taken from magazines on the wall depicting trees and rural scenes; a radio repair room; a CCTV spares room; ventilation plant (capable of shifting 60,000 cubic litres of air per hour); fuel (160,000 litres total) and water tank rooms; a generator room with three marine diesel engines.
I was surprised at how small the generator room was. Inside were three GDR-manufactured turbo diesel engines. Dated 1983, these 100 kpa engines, weighing in at 2.2 tons each, had a mere 400-500 hours of use on them, and drove 3-phase, 400KVA generators. The exhausts went to the outside, and the filters were on the top of the mountain to dissipate the smoke, as were the air intakes. The incoming air for the engines was cooled to make it more dense. There were various drums of oil around, plus the usual maintenance equipment you'd expect - tools etc. It was very clean, the engines were painted orange, and at least one of the diesels had been returned to running order. It all certainly looked in A1 condition. The fuel was stored in eight tanks, each holding 22,000 litres. These tanks were in a room above the generator room. The starter batteries were beneath the floor of the generator room.
We were allowed to photograph anything and everything, and go anywhere we wished.
The complex is now owned by a local resident. He wants to open the site as a place of interest (i.e. ex NVA installation) but has met with stiff local resistance. The local authorities have effectively prevented him from opening the site publicly, or using it as an exhibition centre as he wishes to do. He is taking them to court now in an attempt to reverse their decision restricting his planned use of his bunker. The issue seems to be one of just how the bunker complex is 'remembered' and/or perceived. The WW2 use of the place still 'embarrasses' perhaps, but definitely holds sway over the GDR use, so it would seem. There are various issues, but I understand that the confused local worry is that if opened publicly, the fear is that it could be homed in upon as a sort of shrine for neo-nazis as it is felt (by the local community) that the Jewish and other KL victims should be remembered there. There is definitely conflict over this, and - as I understand it - the issue is rather how should the inmates and the concentration camps be remembered. Perhaps a case of People need to distance themselves from the past before they can look back on it.
To recap, the entire complex had been blasted by the Russians at the end of WW2. The NVA then converted half of the place (around 6.5 km of tunnels) for use as a huge underground store. But what of the 'other' half?
Well, of course I had the hots to visit this other side - despite being repeatedly told that it was in a dreadful state and pretty dangerous. I knew that after German re-unification after the fall of the GDR, the German government had buried all the redundant East German currency - Ost Marks - in a bunker, this one in fact. The money, now worthless, was buried in this complex but enterprising individuals dug their way in, stole some of it, put it on e-Bay and flogged notes for unbelievable sums. DM5000 per note apparently. The government moved the lot and incinerated it promptly. The money was buried in the unused side of this complex...
As we walked around, it was fascinating to see how the bunker / factory had originally been constructed. Large, long, side passages led off perpendicularly from the main tunnels. All the workings were in an unfinished state. We could clearly see how the tunnels and galleries had been constructed.
First, the tunnel was hewn out. Then steel railway-line type hoops were arched over the tunnel sides and roof (the tunnel was radiused), and then concrete was poured behind ill fitting shuttering fitted between the rails. This cladded the area. None of the tunnels we saw were anywhere near finished. Going back to the US plan, it would appear that this unfinished side was in fact the east side of the complex, as the plan clearly shows that the other side housed machinery bays etc. I cannot believe that this unfinished side was anything other than just that - unfinished.
A local historian tells me that: "Today the blasted part is the major part of the complete system. The Russians blasted nearly the complete old part of the system, but it is accessible." I take this to mean that the operational Junkers WW2 factory, the west Part, was blown up by the Russians at the end of the war. They then rebuilt this as the NVA store. They also blew up the unfinished side (probably just the entrances, as was normal) and sealed it from the NVA side too.
Within this abandoned, demolished side we saw the bricked-up tunnel where the GDR money was entombed. In the wall there was a small hole, and we all peered through it, keen to see just where one of the last relics of the former regime was left. Of course, we could see nothing except gloom - but maybe that was in itself fitting.
As we walked through this area, we noted that the floor was in poor condition. None of the walls, ceilings or floors were faced. There was thick sand underfoot, and as we shuffled through it we actually came across a small wad of Ost Marks...
Just lying in the sand was a small wad of EM10 notes. Unbelievable. A tangible link with the past. Weird feeling - as it proved it had really happened. Okay sure, we all knew it had, but to hold it in your hand brought it home with a start. We kept noticing the paper banding previously wrapped around the banknotes. Travelling in search of the past, we'd actually found it.
Our guide was not willing to permit further exploratory ventures into the tunnels due to the danger, so we retreated. We could, however, clearly see how the tunnels had been constructed, with the concrete between the 'hooped' railway lines. The whole place was of pretty rough quality, quite dangerous, with evidence of roof falls. Incidentally, having visited many ex-Nazi underground factory sites in Germany, Poland, Czechoslavakia and Austria, I have never seen tunnels lined in between railway line-type hoops before. There is no WW2 detritus or artefacts to be seen here.
In conclusion:
We visited the central part of the 'Malchit' system. The western and eastern parts are only accessible via climbing through a labyrinth of cross-galleries. The NVA only used a minor part of the original system, a mere 15,000 sq metres out of the total of over 60,000 sq metres.
A major part of the original system is, in fact, still accessible. We were in the northern central part of it.
It should be noted that the abandoned, blasted, sections contain extremely hazardous materials. The Russians planned destroy them by blasting. However, this was definitely not completed. It is known that these abandoned areas contain Tetraethyl-lead, and most probably the chemical weapons Tabun and Soman too.
Note: Nerve agents GA (Tabun), GD (Soman), are manufactured compounds. The G-type agents are clear, colorless, tasteless liquids miscible in water and most organic solvents. Tabun has a slightly fruity odour, and Soman has a slight camphor-like odour. Most of the nerve agents were originally produced in a search for insecticides, but because of their toxicity, they were evaluated for military use. Nerve agents have been used in wars and by terrorists. They are known to be stored by several nations.
Between 1934 and 1937, Germany developed an arsenal of chemical warfare agents (i.e. Tabun, Sarin, Soman). A fourth agent, VX, was synthesised in England a decade later. Discovered in the course of investigating novel organophosphate compounds for use as insecticides, German chemists synthesised Tabun in 1937, which was later incorporated into the German chemical munitions stockpile during World War II. Later, Sarin, Soman, and other derivatives were synthesised. None of these was used, however, and the West only discovered their existence upon the end of the war.
After many hours beneath the surface, we emerged from the gloom and after thanking our guide, headed off to the next site, nearly 150 miles away, the former East German PTT (Post Office Telecom, basically) satellite uplink station 'Intersputnik' at Neu Golm to the south east of Berlin.
The site came into service 1976 as the first (and only) ground satellite station in the GDR. Then part of the integrated international telecommunications network, 'Intersputnik', (which has nothing to do with the Sputnik remote transmitter sites mentioned elsewhere in this report) was one of 15 INTERSPUTNIK sites which were in service in 13 countries. These sites used to transmit telephone, fax, TV and data signals. In the Former Times, this site's services were also used by the then West German PTT services for satellite links to the Soviet Union, i.e. it was a non-military complex. Later, it used the Soviet satellites Stationar 4 and 5 in geostationary orbit 36,000 km over the equator, but initially used the four Soviet Molniya satellites, which were in a non-stationary orbit, i.e. the dish had to be oriented towards each of the four in turn as they came into view for a 6-hour "period of duty". The dish could rotate through 360° and was so finely balanced that a 250 W drive is sufficient to rotate it. However, the entire site is now a conference centre, even if the redundant original dish (12 m in diameter and weighing, with its base, 60 tonnes) is still on the roof.
Interestingly (to me anyway!) the satellite site is located in a dip, not on high ground as might be expected, which apparently reduces the chance of any possible electromagnetic interference to a minimum when transmitting: incoming signals were no problem - they had a strength of only 2.5 trillionths W (2.5 x 10-12).
At the site, we were given an excellent talk by its former head, Joachim Berndt, and an illuminating update by its present Owner and Manager, Andreas Fischer, who gave us a comprehensive tour of the facility including the air raid shelter beneath it. In the Former Times, it was customary for such buildings and sites, including civil as this was, to be equipped with sufficient air raid protection for the staff.
After examining the darkness, and the various rooms still containing the equipment befitting its former life, we were taken 'behind some screens' in a large back room to inspect Herr Fischer's collection display of.....land mines. May sound odd, but given that his business is concerned with the detection of land mines, it wasn't... There was a comprehensive display of just about all the various ferrous and non-ferrous (i.e. very hard to detect) landmines found around the planet, augmented with some horribly authentic-looking 'victims'. One hopes that Herr Fischer's business does well, then...
Day Four
Thursday morning we visited a former tropospheric site near Wollenberg. On the way there, we stopped at one of the the twelve 'Sputnik' remote radio transmitter sites which served the main transmitter for the bunker complex at Harnekop, which we had visited on a previous tour. These were basically just a concrete building with a small generator and transmitter inside, which could be operated remotely from the main transmitter site, thus dramatically reducing the risk of being D/F-ed. [direction finding] They were within a small fenced compound, usually set back from the road, in the trees. Unless you were looking for it, you'd never notice it. There was a phone point on the inside of the gate where the NVA signaller-technician would plug into to report his arrival (and later departure) so that the alarm could be turned off before he opened the security gate.
The site in Wollenberg - 'Station 301' - was one of the three East German sites in the Warsaw Pact BARS (Russian for snow leopard) tropospheric (or forward-scatter) strategic network.
It is now in private hands and is basically a museum. It has been restored to its former glory (not, perhaps, an apt turn of phrase) by the hard working small group of enthusiasts who now own it. The former CO of the base has been drawn back in to help, and despite his initial complete lack of interest, has now turned into one of the keenest helpers and reputedly spends more time there than at home. They have secured the site and have, somewhat worryingly I felt, restored the high security fencing around the site, including a very capable high-voltage electric fence. This, they claim, is being set up to carry high voltage again, 'to deter animals'. The site is ringed by a 2m high outer fence, the electric fence, and an inner 2m fence.
This site was, we all felt, one of - if not the - best one we'd seen in the category of 'living museums' rather than 'mausoleums'. Most of us are not particularly interested in 'museums' which, we feel, just comprise piles of static, cased, or stuffed (!) exhibits. This site appeared just as it was left when the previous owners left. It would have worked, if it had had the antennas still in place. (They'd been removed).
We were permitted to explore the entire bunker by ourselves, and go anywhere we pleased. It was really interesting. Despite the place having been broken into after being decommissioned, and various things 'removed', the present owners had sought out replacement equipment, and installed it. This is where the former CO was of great help, in setting it all up again.
There were various outside buildings on the fairly large site, all camouflaged and undamaged. There were a full set of offices, in one of which was the secure entrance tunnel to the bunker. The offices also included a medical centre. All the rooms were fitted out with the original GDR furniture and accoutrements. It seemed weird to see the old-style clocks, furniture and cutlery etc., again. There were two storerooms filled with GDR equipment; clothes, dishes, flags, the lot...
For us, it was a magnificent site; totally right with all the correct equipment. From a military historian's point of view, it was superb - a snapshot of the past. They have a good website with a 'tour', so have a look at Station 301.Go for the key marked 'virtueller Rundgang'.
After lunch at the site, we drove the 20 miles to Prenden, north of Berlin. Mike had indicated that he'd arranged a special surprise for us, and kept us guessing. To be honest, I wasn't too excited as - for me - Halberstadt had been the Main Event, and I didn't feel that anything could eclipse that.
But, actually, something did...
As we arrived at the outer perimeter of an obviously ex-secret site, it became clear that it was pretty large. Once inside, it resembled many of the other sites we'd visited on our various former-GDR bunker tours. This one too had the various office blocks, car parks, associated building complexes and the like. All deserted, and somewhat trashed. There was, however, nothing to hint that below this - improbably enough - was in fact former GDR leader Eric Honecker's bunker: Code number 17-5001.
Mike told us this as we got out of the cars. We were impressed, and we don't do impressed (anymore). He assured us that beneath the bland office block in front of us, lay the Big One: the bunker to which a limited number of members of the GDR government would have retreated in the event of a nuclear, and/or chemical attack. This was the bunker where Eric Honecker would have ruled what was left of his German Democratic Republic...
We explored the office block, and noted a flash (for the former times GDR) bathroom and shower. This was Honecker's personal bathroom. And it was...
There were countless offices - mostly trashed - and various papers still strewn around. I looked through many of the papers, presuming anything of importance had already been taken away. Mind you, there were plans and wiring diagrams lying about, so I took some as souvenirs.
We all immediately noted that there was a wide staircase leading down from the ground floor and homed in upon it. This was the main entrance to The Bunker. Mike and Paul, the day's guide, told us that this main entrance had been sealed up a short time after the complex was de-commissioned.
The bunker had been very recently broken into and the site owner wanted to us to be the 'clearing team' as there was some concern that other intruders might still have been down there, especially since the bunker was going to be sealed up immediately we exited. Sure enough, outside we saw the JCB quietly waiting...
As the Main Entrance had been secured shut, our method of entry was down through one of the emergency exits. The JCB had dug away the ground, and had moved two huge concrete slabs apart so that we could crawl down. So in we went. Once inside the exit tunnel, we needed our own lights as there was obviously no lighting down there. We walked along a very long tunnel, inspecting the abandoned and trashed offices/rooms either side. They were crammed full of documents, papers, manuals, files - all with the number 17-5001. Yup, this was Honecker's bunker. I knew, and recognised, the number.
I looked through as many of the papers as possible, but they appeared to be just maintenance schedules and manuals/wiring diagrams. There was tons of it.
The next section of the long tunnel had been used as a rifle range. There were piles of ammunition cartons and spent rounds, but no brass cartridge cases - presumably taken for scrap? The end of the tunnel at a dog leg was shot to bits, with big chunks out of the walls and ceiling. At the end, where the paper targets were, there was a pile of railway sleeper-type sections of wood that had been totally shredded by the bullets. There were chunks of lead all over the place.
We went past this, and found a hole in the wall which was our entry point into the main bunker. It had been comprehensively sealed previously, and had taken road drills many, many, hours to break through again. We squeezed through and began walking into the bunker.
It was huge. Three levels, multi-roomed. There was a large quantity of brand new, un-issued equipment in there. Ranging from chef's outfits (which Jason and I felt the need to appropriate and wear), to vibration detecting instruments. We walked round, trying to get our bearings. We worked out the layout of the bunker, but found that there was in fact another bunker within it. There was a bunker within a bunker. None of us had ever seen anything like it. The central core of this structure was independently sprung - hanging inside the main bunker. This central area comprised a large number of rooms, with the whole of the inner bunker being suspended from countless four-inch thick hawsers connected to massive nitrogen filled shock absorbers and cushioned on huge steel springs. It was awesome, it really was. We had seen sprung areas in other GDR Stasi and NVA bunkers before, but nothing like this - nothing on this scale. It was, quite frankly, incredible.
We estimated that each room weighed around 800 tons. We had never seen anything like it. The power plant was on a swinging floor, which we got swinging - the huge weight of the established equipment not hindering our efforts at all. We found decontamination suites, offices, medical centres, hospitals, a broadcasting suite (where I just had to sit, in the place presumably where Honecker would have broadcast the good news), a photographic developing area, stores, living accommodation, toilets, showers, etc., etc. It was huge, and of infinitely superior quality to anything we had (have) in the UK. It was, we all decided, no wonder the Socialist Dream went bust - this joint must have cost millions. It was amazing, the best bunker any of us had ever seen.
We spent over two hours thoroughly examining the bunker, marvelling at its technical aspects, while wondering - if push had come to shove - whether an attack by the West would have actually got Honecker. If he'd been down here, we reckoned he'd have been pretty safe. Sure, a direct hit would have meant the end, but anything other than that wouldn't have. The shock-absorbed bunker would have just moved with the blast. That was its function - the inner bunker would not, theoretically, have fractured or become damaged due to it being independently mounted. Ingenious.
There were various things about this bunker that marked it as being 'different' to the others we have seen. For example, we noted many CCTV cameras mounted around the structure. The decontamination area was fully covered by CCTV, as were main thoroughfares. The cameras were 'robust' and could be directed. i.e. they weren't just fixed and pointing in one direction.
This installation was a prototype bunker - a pattern for the bunker that was to have been built for each government / party in each East European country. But only East Germany could afford it, so this was the only one built. We learnt afterwards that Eric Honecker had a suite of rooms in the approach tunnel as well as in the bunker proper and in the office block above.
After exiting the bunker, having found no-one apart from a few ghosts from the past, the JCB got to work and sealed it up once again. Mike told us later that very, very, few people had seen inside, and certainly no-one from the UK. Just a short distance down the road, we had coffee and sausages in a converted long bunker now being used as a small-bore shooting range....by a very suspicious (to us, anyway!) group of blokes who smacked heavily of ex-Stasi. It seemed as though the entire area was infested by ex-Stasi types who seemed unwilling to leave. It was dead weird, and we all picked up on it. Lots of black leather jackets, cigarette smoking, and guns. Sort of a Stasi-Club deal. Strange. These bunkers were part of the Honecker complex and had been used for communications purposes, including vehicles, etc. There was also a remote wireless site a short distance away which was associated with the site, but we didn't visit it.
We drove some distance to that night's accommodation, but via a local Stasi (!) bunker. The site was being used as an asylum seeker accommodation centre, and the above-ground buildings were homes to a large group. The bunker was basically empty, and in pretty rough condition, but in the entrance buildings was a large quantity of junk removed from the bunker. This was really interesting to pick through as it revealed a few gems. Mark found a complete chemical / gas detection kit, and there was a mountain of ancient GDR televisions in a huge heap.
That night we stayed in a riding stable complex (where there was a course on Artificial Insemination, and the girl in the restaurant thought we'd come for it...) which used to be the secret training area of HA 22, the department responsible in EGER for anti-terror operations (define that as you like). Incidentally, a 53-year old man was recently arrested in Berlin on charges of being a hired 007-killer for the SED, the EGER govt. Anyway, the guy running the place looked really hard, and we weren't at all surprised to learn that he used to be the Head Man there in the HA 22 days; boss man then - owner now. Bit strange that - how was it that former 'bad guys' of the discredited regime were back, living openly and apparently doing okay?
Day five
After a night in the rooms of HA 22, we drove into Berlin to the Stasi museum, in the former Stasi HQ in Normannenstrasse which was excellent albeit entirely in German. What fascinated me were the former times information boards exposing the West as being full of fascist scum hell bent on corrupting the Socialist Dream, and waging a war of terrorism upon the peaceful residents of the Socialist countries. (somehow Vietnam and the financing of left-wing terrorist cells such as the Baader Meinhof Gang, and the Red Army Faction weren't mentioned...). There were countless photos depicting the story from both sides, and an especially interesting section on the Czech and GDR uprisings. Fascinating place, but all in German. I wanted to spend much more time there, but...
In the afternoon we went to the Luftwaffe museum which was full of......aeroplanes. Aircraft from east and west, from earliest to latest. We spent a couple of hours there, before heading off to Glienicker Bridge over the river Havel between Potsdam and Berlin and the former gateway to East Germany, to re-enact various spy hand-overs. There were still WW2 bullet holes in the bridge, and all it needed was for us to be wearing trilbys and mackintoshes. Which, thankfully, we were not.
From there we headed back across a rush-hour-on-a-Friday-night Berlin to Schonefeld airport, mucked the cars out, checked in, and checked straight out. The end of (another) brilliant week.
Our thanks must go to Mike Barton who arranged and smoothed the way into the sites visited, even though he said last year "never again"!
Those taking part were, Tony Page, Nick Catford, Jason Blackiston, Robin Ware, Richard Challis, Andrew Smith, Mark Bennett, Dan McKenzie and of course Mike Barton.
Trip Report By Tony Page